Use Foot Reflexology to improve whole body circulation
Try it to reduce stress, muscle tension, 'kicking leg' at night, and to improve sleep. Foot Reflexology isn't just a normal relaxation style foot massage. Our massage therapists understand that the primary focus of reflexology is to stimulate the various acupressure points found on the toes, ball, sole, heel, top of foot, calves and lower legs to improve the flow of Qi throughout one's entire body.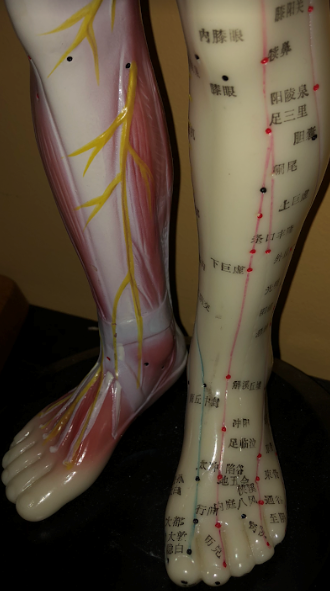 The Benefits of Reflexology
The benefits of reflexology are far reaching. Even a single 50 minute reflexology session can help to unblock Qi in an area of the body other than the feet that is causing a health issue elsewhere.  Examples include stimulating the kidney points found in the feet/leg lines which helps to relieve bladder issues; or  stimulating the liver/gallbladder points/lines which helps an indigestion problem. 
Of course, the feet handle the body's weight and people often ignore their feet to the extent that they fail to notice fatigue. One of the greatest benefits of a single session of reflexology is a significant reduction of stress, and improved sleep the night after the reflexology.

The benefits of foot reflexology become much greater with regular treatments, including:  organ functions return to a normal state which reduces stress and can eliminate blood pressure issues, and/or help to return one's digestion, lymph and waste elimination systems to a normal state of operation. This can greatly help reduce chronic pain issues, insomnia, or circulatory issues. Overall vitality is better - so you have better metabolism and  higher energy levels throughout your day.
Research has found reflexology to be an effective form of treatment for a wide variety of illnesses, including but not limited to:
Allergies,  Arthritis,  Asthma (child),  Constipation,  Diabetes,  Diarrehea,
Fatigue,  Gastritis,  Gout,  Headaches,  High Blood Pressure,  Infertility,
Insomnia,  Irritable Bowel Syndrome,  Lupus,  Male Reproductive Health,
Menopause,  Multiple Sclerosis,  Neurological Conditions,  Obesity,
Parkinson's,  Respiratory Infections,  Sciatica,  Child and Adult Urinary Issues.

Why Happy Feet Wellness for Your Reflexology Treatments?
Our massage therapists take pride in their ability to provide professional reflexology treatments. All of our therapists continuously study foot reflexology techniques and specific therapeutic applications to improve their knowledge while working at Happy Feet Wellness, under the guidance, instruction and encouragement of the shop's owners.
Most of our therapists, including the two owners have studied acupressure massage and reflexology in China, and take great satisfaction in their ability to introduce reflexology as an art form to our clients.
Our reputation throughout the Greater Vancouver area for providing authentic chinese foot reflexology is such that, over the years, we have had several Registered Massage Therapists (RMT) train with us for months at a time in order to become adept at being able to provide reflexology treatments themselves.
What can you expect from our foot reflexology sessions?
Our basic foot reflexology session is 50 minutes long, but some clients have learned to appreciate the extra deep relaxation that comes with doing one and a half sessions, or two sessions at once.
We have nice big comfy leather lounge chairs for you to relax in, along with a foot stool to keep your feet and hips elevated at the same level to assist with the massage. We start by soaking your feet in warm sea salt water - to aid relaxation and increase the blood circulation. Your feet and legs are then dried and relaxed before being wrapped in towel to stay warm while the massage begins.
Here's a sample 'general reflexology' session (please use imagination!):
Finish with hot towel rub to clean oil and massage over towel. Circling ankles. Stretching feet back and forth, side to side. knocking/punching leg lines together at same time, inside out. slapping tops of feet at same time, knocking heels, soles, balls of feet with back fist. Shake and stretch both legs same time.
Allow to enjoy. Rest.
Foot Reflexology Can Improve Sports Performance
It has been observed that sports athletes can greatly increase their performance times and cut down recovery times between training sessions by incorporating foot reflexology stimulation into their regular training schedules.